We have released new Monthly Service Reports. Everyone at Varsity is excited to make this addition to our Varsity OneTeam service. In just a few days, we will be releasing the new monthly service reports to our clients.
New Monthly Service Reports
The reports are unique in our industry for many reasons. For one, we wanted to improve the customer experience by making it easier to read. Honestly, we had trouble viewing those canned service reports from our software vendor. Second, we wanted to disclose
performance metrics
. We're excited to be able to have accomplished publishing the reports. We've invested a lot of development time pulling data out of our systems that our clients will find informative. That data gives  insight into service metrics not before released. Now, you'll see what we can see on open tickets, service response time, along with other data points. Below is a small sample of what is found in our new reports.
Updated Look to System Health Score

We are still working on the calculation behind this score. We think the new monthly service report is much better, but we have a ways to go to make the report reflect what we feel is important. We'll continue to evaluate and report back for any future improvements.
New! Service Delivery Graphs Added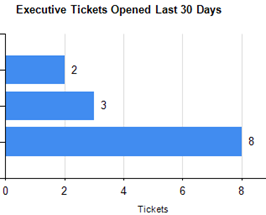 The service metric graphs are probably are biggest addition. Although we've been analyzing this data for years, we didn't have easy access to generate reports. That has all changed. We now are presenting the data in a readable format and we've added automation. It's just the beginning, but it is a big step forward. Although much thought and energy went into this release of our report, this is just the first version. We will be continuing to update and release updated reports in the future. Also, we look forward to the soon to be release of our customer portal which will make this information more readily available online. We are sure that all of our current and future clients will appreciate the performance data.