Shoua teaching us how to make spring rolls
It recently dawned on me that building great office culture is important beyond creating opportunities for coworkers to socialize and have fun together. What's more, office culture cannot be forced and it doesn't always come naturally. A truly warm and energizing office environment – the kind you actually enjoy being a part of – takes time to develop. Just like friendship takes time to really establish a trusting and loyal bond, so too does camaraderie and enjoyment among coworkers. But I digress. Creating opportunities for coworkers to establish rapport is very important for the health of an organization in so many ways, but beyond this, it is a way for the owners, Presidents, VPs, and executives to show their employees how much they appreciate the hard work and long hours they put in every day. Every initiative is an opportunity to say THANK YOU, and reflect on the organization and all the wonderful people who make it possible.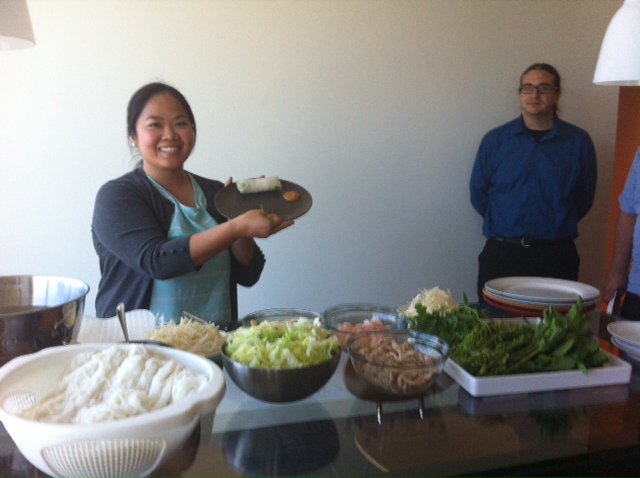 We have for you another "office culture" idea for bringing your people together. If you're like most organizations and can't really afford to provide lunch to employees every day, once a week, or even once a month, think about doing a "lunch and learn." Now be warned, this takes some prep and an enthusiastic "experience team," but if you've got cooks in the office, it can be really fun. This awesome idea came from our culture enthusiast, Shoua Thao who specializes in the art of the Spring Roll. Yumm! Our strategy…well, I'll let the pictures speak for themselves. It's simple really – just think of a type of meal (or dessert) that is, "build your own" style. We are talking about doing sushi next! And as always, ask your coworkers if they have any ideas or suggestions. It may be a lot to ask for someone outside the "culture crew" (I like to give it different names if you hadn't noticed) to go out, gather ingredients, prep, and bring it all together, but that's okay because this is the job of the "fun bunch" (too much?). So if someone has an idea and is willing to teach everyone how to put it all together (hence the "lunch and learn"), it can be the culture committee's job to make it happen.
This is an affordable yet effective way to do something nice for your team. The price tag for our spring rolls was exactly $36.00, which was enough to feed over 20 people and have snacks the next day. We even got fancy with shrimp! But if you want to avoid shellfish, Shoua recommends providing chicken and tofu. If your office is close to a farmer's market, I recommend gathering some of the ingredients there to support our local farmers and bring some truly fresh ingredients to the table (like mint and cilantro!).
Here is a good recipe for making Spring Rolls (and if you don't feel like or have time to tackle the peanut sauce, just grab some at the store). And as any good chef will tell you – the most important ingredient is love (corny but true). So put some heart into it, and have fun!