by Jennifer Harper, Director of Development and Marketing at Alternative Family Services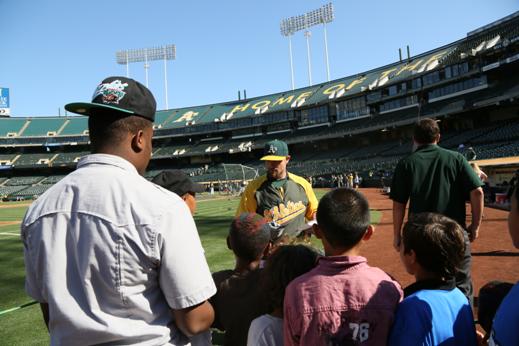 Nothing says summer quite like BBQ, Baseball, music, and family fun in the sun. On July 7th folks at Varsity Technologies joined AFS, along with BBQ lovers, baseball fans and members of the community wanting to support a wonderful cause, for the Bay Area BBQ Championship at the Oakland Coliseum. The event, hosted by Alternative Family Services (AFS) and the Oakland Athletics, is one of the largest Pro/Am cook-offs in California to benefit the foster youth and families served by Alternative Family Services. The event included more than 40 Pro/Am BBQ teams competing for cash and trophies. Celebrity judges participated in the AAA cook-off and guests filled up on a wide variety of tasty barbecue samples. Guest chefs including, Dr. BBQ, Hoss Zare, and Harry Stewart showed off their grilling techniques and gave the crowd an interactive experience with their food demos. Great times were had by foster families and youth served by AFS, who were able to attend the BBQ event along with the A's vs Mariners game for free. If you missed the Bay Area BBQ this year, be sure to keep it on your radar for next!
Alternative Family Services (AFS) is a non-profit organization that provides therapeutic foster care, short-term emergency foster care, and adoption services for abused, neglected, and developmentally disabled children in the Bay Area. The focus of AFS is to ensure that each child experiences minimum turbulence and the greatest sense of stability while going through the foster care system.
If you are interested in finding a meaningful opportunity to volunteer and give back to the community, AFS is currently looking for sponsors and volunteers to help with the upcoming holiday season. AFS has to fill hundreds of gift requests and would like to have a holiday party at each of its regional locations to thank everyone involved, especially those who devote countless hours to serving foster youth. Learn more about the AFS Wish Upon a Wreath program and opportunities to help, or contact Jennifer Harper at jharper@afs4kids.org, (510) 759-1271.