If you haven't heard about B Corp, it is time for an introduction. I will be brief as we have a future blog in the works from our CEO Patrick Ciccarelli, with more on B Corporations (or Benefit Corporations), and specifically why Varsity decided to join this growing community of "better businesses."
What does it mean to be a B Corp? For starters, it is a certification that holds one's business accountable for meeting an ambitious and rigorous set of social and environmental standards, which are designed to create a community of better businesses. This idea of "better business" speaks to the harmonious balance of the triple bottom line: people, planet, and profit.
B Corporations share a commitment to be good to employees while giving back to the community and treading, as lightly as possible, on our planet. In short, it is a mark of excellence and dedication, and I am a big fan (as you can probably tell). As a proud employee of a B Corporation – one of only a few within the tech industry I might add – and full-fledged (sometimes annoying) advocate of everything B Corp, I wanted to take a moment to scan the perimeters of our office and share some of my favorite B Corp brands represented around here.
Klean Kanteens
Several months ago Varsity decided to create some fun collateral, and that we did! We stamped our logo onto Klean Kanteens, which is an awesome and mentionable B Corp.
A few noteworthy highlights: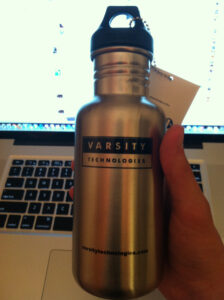 Reusable and BPA-free
Handmade from toxin-free materials designed to last a lifetime (if you take good care of your bottle)
Easy to clean, flavor free, and ensure fair labor standards are adhered to
Numi Tea
Varsity is a big fan of Numi Tea. They are a local company from Oakland, California, committed to fair trade and sourcing Certified Organic Teas and Herbs. They also offer a wide variety and eclectic assortment of teas – some of our favorites include Moroccan Mint, Toasted Rice, Black Vanilla, and Rooibos Chai.
Equator Coffee
These rich and flavorful beans go quickly in our office. Equator Coffee and Teas is a women-owned, green-certified coffee roaster based in San Rafael, California. We usually go for the Jardinière, Dark Roast Organic Fair Trade Blend.
Greener Printer
Located in Berkeley, California, we utilize Greener Printer for all of our company business cards, which are printed on 100% recycled material.
Give Something Back
Headquartered in Oakland, with a 50,000 watt solar farm on their roof, Give Something Backis California's largest independent office supply company with a mission (as stated in their name) to give back. We utilize them for office supplies as they are needed, such as printer paper made from 100% post consumer recycled fiber, ergonomic wrist wrests, pen cups, and more of the usual.
Method
Located in San Francisco, Methodapplies the Cradle to Cradle philosophy to every product, which essentially provides a framework for sustainability. We use their dishwasher detergent and all-purpose cleaner.
7th Generation
Also, a commonly used product in our office for things like dish soap and paper towels, 7th Generation is a founding B Corporation pioneering the initiative toward corporate responsibility.
Check out Varsity's B Corporation Profile!